Colruyt Group goes zero emission transport
Colruyt Group is fully committed to zero emission transport by 2035. Both for its own transports to and from the stores and to the distribution centres via suppliers, the Belgian retailer intends to fully deploy zero emission vehicles. The company will achieve this - among others - by using complementary technologies: both battery-electric vehicles and hydrogen-electric vehicles will be needed to make this transition happen. Today the Group organised its Zero Emission Transport event in Ollignies, where it will open a new hydrogen refuelling station (HRS) at the distribution center. The HRS is built in the framework of the H2Haul project (with the support of the Clean Hydrogen Partnership) and will open in a couple of weeks time.
To realise its 2035 ambition, Colruyt Group will thoroughly scrutinise its current transport fleet. Both green hydrogen and battery-electric vehicles should become the norm in the near future. Colruyt Group believes that there is not just one way to more sustainable transport, but that a combination of different alternative fuels is essential. The complementarity in combining these alternatives ensures that the disadvantages of one technology are offset by the advantages of the other, such as charging time, deployability and infrastructure adaptations.
Jef Colruyt emphasises: "For us, this is really an and-and story. We always want to make the best techno-economic choices depending on the needs and logistical application. We are 100% committed to the transition towards zero emissions, making well-informed choices about the fuels used. We believe that electric driving can become the broad norm, it is becoming more and more established, also in a professional context. Hydrogen will also play an essential role in industry, in logistics processes and in transport activities. The most important thing for us is ultimately an evolution towards efficient and fluid transport with the smallest possible ecological footprint."
In the field of technology and infrastructure, Colruyt Group takes a clear pioneering role. It has been doing so since 2005, when it first started research into electric trucks for silent delivery. The retail group was also the first to test heavy duty prototypes on hydrogen in Europe and it managed a silent delivery in an urban context with a 44-tonne electric truck.
WaterstofNet is part of the H2Haul project and was present at the event. Managing director, Adwin Martens: "As heavy-duty transport on hydrogen is expected to play a major role in the decarbonization of this sector, it is crucial to develop hydrogen refuelling infrastructure for trucks on hydrogen. Colruyt Group is in the lead of these developments: after testing the first 44 ton truck on hydrogen in Europe, DATS24 is now setting the scene by opening this specific hydrogen refuelling station for trucks in Belgium within the H2Haul project. As WaterstofNet we are convinced that companies like Colruyt Group, not just telling us about sustainability, but also making actual steps to achieve this, play a necessary role in kickstarting the implementation of hydrogen in our society".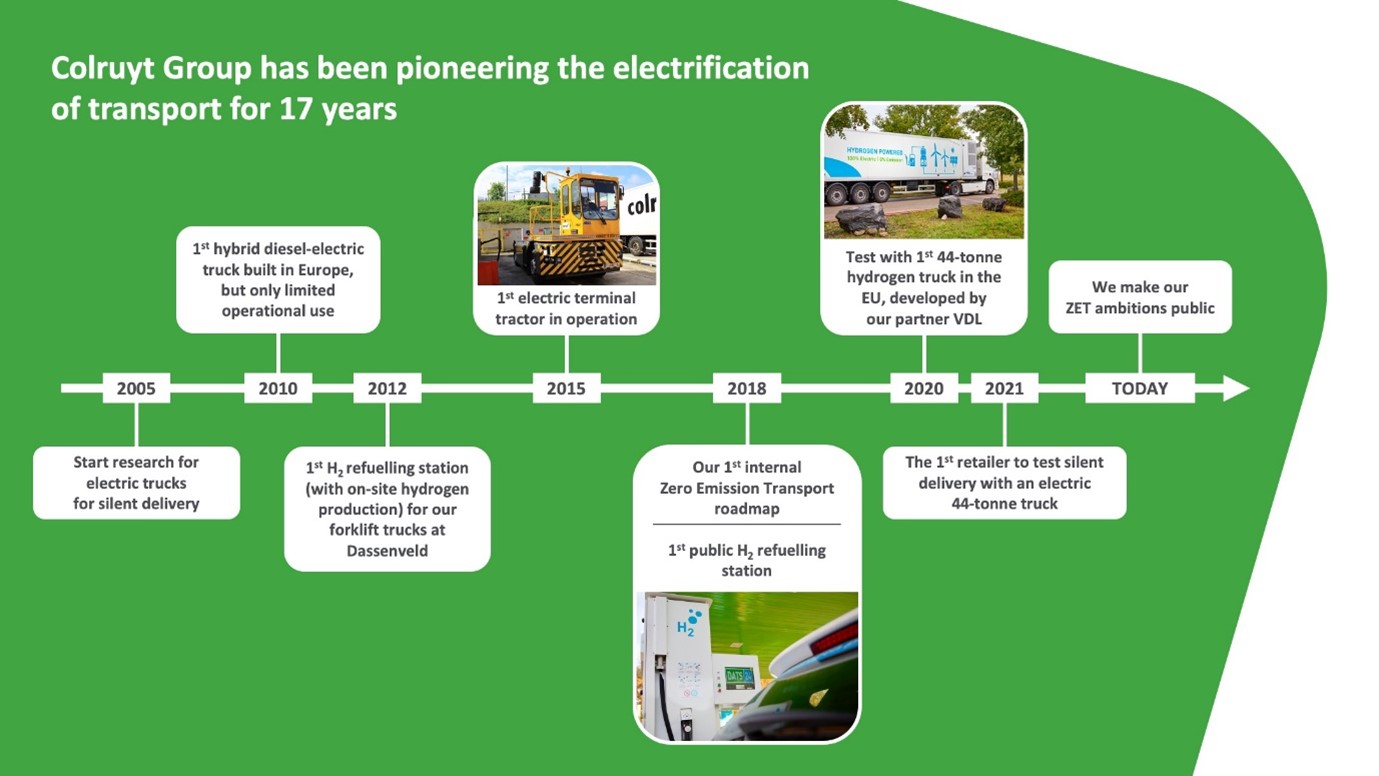 Timeline of zero emission transport (ZET) innovations at Colruyt Group since 2005
Some 200 people were invited to the event, where Colruyt Group explained its ambitions. The distribution center in Ollignies, with its brand-new, integrated hydrogen refuelling station, was the perfect stage for several key stakeholders within the transition to have their say. Various experts such as Virya Energy, Professor Contino and Bart Biebuyck (Clean Hydrogen Partnership, which supports the H2Haul project) participated in a panel discussion.
Read the full press release in English, in French and in Dutch.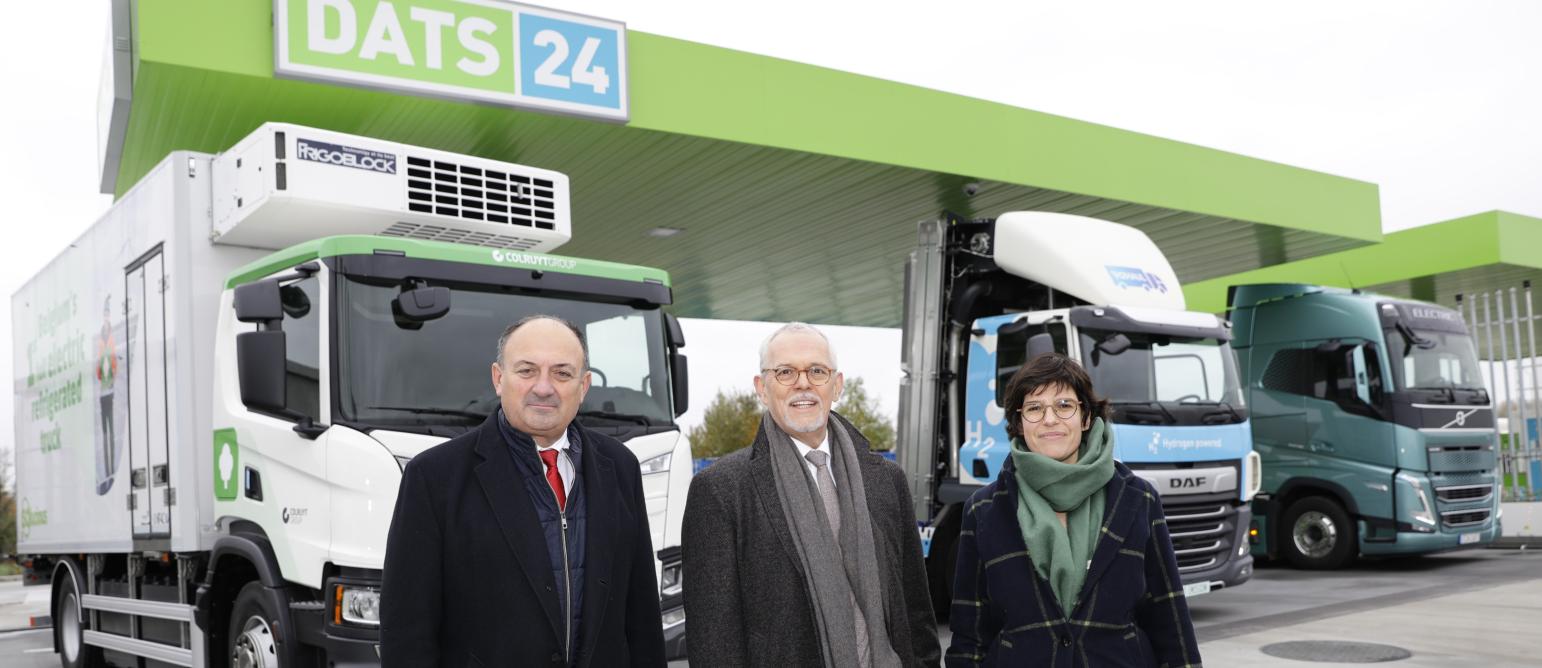 In the picture: Walloon minister of Economy minister Willy Borsus, CEO Jef Colruyt and federal minister of Energy Tinne Van der Straeten.
Below: one of the H2Haul (hydrogen) trucks that is being developed next to other fully electric trucks.