Advisor to Government
We have a structural collaboration with the Flemish government. WaterstofNet offers support in the structuring and support the Flemish innovation landscape. We monitor and create an inventory of the hydrogen industry in Flanders, working on the structural collaboration on innovation for hydrogen between Flanders and the Netherlands.
WaterstofNet is recognised by the Flemish government as the collaboration and knowledge platform for hydrogen. We support policy and draft opionions in the area of legislation and regulations for matters relating to hydrogen. Spearhead clusters from Flanders can call on us for information or collaboration within projects.
It goes without saying that there also good contacts with diverse government institutions on the Belgian and Dutch levels. At WaterstofNet, we have regular consultations with diverse governments about how the next steps in hydrogen can be taken in an ambitious and realistic manner.
To support the Flemish government in its ambitions to roll out a hydrogen plan, a bottom-up strategic vision for Flanders was formulated by the Hydrogen Industry Cluster (Waterstof Industrie Cluster) in the autumn of 2020.
WaterstofNet is ready to join governments and companies in making these goals a reality.
Ambitions for 2025 as formulated by the Waterstof Industrie Cluster: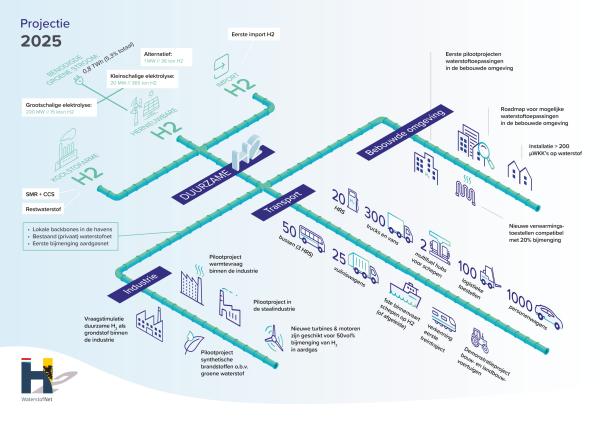 WaterstofNet
Mission
WaterstofNet is a knowledge and collaboration platform. We aim to contribute to a carbon-neutral society by supporting and realising hydrogen projects in Flanders and the Netherlands. Together with the industrial sector and the government, we enable concrete achievements in the field, laying the basis for further collaboration. By doing so, we assist in the further development of Flanders and the Netherlands as leaders in hydrogen.
Vision
Sustainable hydrogen will play a key role in the decarbonisation of our community. It can contribute to zero-emission transport and function as a sustainable raw material for industry, as a means of energy storage and a carbon-free source for heat.
Flanders and the Netherlands host a unique value chain of companies and research institutes that are active in the field of hydrogen. As a knowledge and collaboration platform, WaterstofNet acts as a catalyst for this ecosystem in the further realisation of a hydrogen economy.