WaterstofNet
refuelling stations
Via the Interreg program 'Hydrogen Region Flanders- Southern-Netherlands' and at the request of WaterstofNet two hydrogen refuelling stations have been installed (350 bar). One in Flanders (2012) and one in the Netherlands (2013).
WaterstofNet is the owner and operator of the refuelling station in the Netherlands, that meanwhile (2014) is extended to 700 bar. WaterstofNet was also the owner and operator of the Flemish Station (december 2016), that is now operated by Colruyt Group.
The refuelling stations comprise a hydrogen generator (using electrolysis) and consume water and (100% green) electricity generated by wind and solar power. The hydrogen can be stored on site under high pressure.
Vehicles – such as buses, cargo trucks and forklifts – require 350 bars. Private car requires a pressure of 700 bars.
FLANDERS
Operating since 2012
Location
Storage
Pressure
Hydrogen production
Colruyt Group, Halle, Belgium
55 kg
350 bar
30 Nm³/h
December 2016 : - 4750 refuellings at 350 bar (forklifts)
SOUTHERN NETHERLANDS
Operating since 2013
Location

AutomotiveCampusNL, Helmond,

the Netherlands

Storage
Pressure
Hydrogen production
100 kg
350 bar and 700 bar
30 Nm³/h
August 2017 : - 800 refuellings at 700 bar (cars) - 250 refuelings at 350 bar (busses and garbages trucks)
DON QUICHOTE
As part of the European project Don Quichote – approved by the Fuel Cells and Hydrogen Joint Undertaking (FCH-JU) – the refuelling station at Colruyt is being expanded. The project comprises the benchmark and demonstration of hydrogen technology within the environment of a smart grid. Here, hydrogen can be converted back into electricity when needed.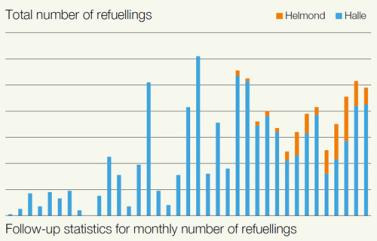 The objectives involve:
creating a benchmark for alkaline electrolysis and PEM electrolysis, each with a capacity of 30 Nm3/h

creating a benchmark for a membrane compressor and an electrochemical compressor, each with a final pressure of 450 bar

demonstrating the use of hydrogen in logistical applications, such as forklifts, and/or in a 100 kW fuel cell