Roadmaps and studies WaterstofNet
A Flemish hydrogen strategy 2025 - 2030


Vlaamse Industrie Cluster
2020
The Hydrogen Industry Cluster (Waterstof Industrie Cluster or WIC), coordinated by WaterstofNet, worked on a Flemish hydrogen strategy for 2025 and 2030. This is a bottom-up vision based on the concrete ambitions of hydrogen companies. In the hydrogen strategy, objectives are formulated for all parts of the hydrogen chain, ranging from the production and import of hydrogen, to transport and distribution to concrete end applications. The WIC sees priority use in a number of industrial sectors and in heavy transport and to a lesser extent in the built environment. Hydrogen will later also be used for power generation and flexibility of the power grid. By formulating concrete objectives, the WIC wants to flesh out a Flemish hydrogen policy in collaboration with all stakeholders involved.
ROLE of WATERSTOFNET
WaterstofNet held the pen in close coordination with the 65 members of the Hydrogen Industry Cluster.
You can strategy download the strategy here (in Dutch, the strategy will soon be available in English)
Projection 2025

Click image to enlarge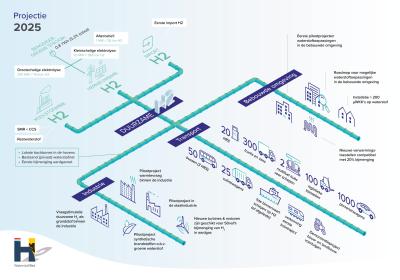 Projection 2030

Click image to enlarge