Welcome at the booth of the Belgian Hydrogen Council (L40) at the EU H2 Week!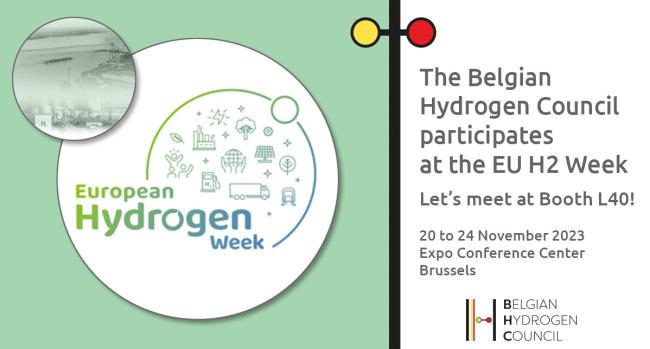 The Belgian Hydrogen Council will host a booth (L40) at the European Hydrogen Week (organised by Hydrogen Europe), which will take place from 20 to 24 November in the #Expo conference center in Brussels. Attendance to the exposition forum is free, and registrations can be made through this link: https://ap.lc/Vkxcd
Please seize the opportunity to plan a meeting with one of our colleagues (info@belgianhydrogencouncil.be) or walk by our booth L40!
On Wednesday November 22th, you are welcome at the roundtable on Hydrogen Technology collaborations between Belgian and South-African companies. This session will take place in Room 1125 of the Expo (9:30-13:00) and is organised in collaboration with the South African delegation to the EU H2 Week. Should you be interested in this session, please reach out to davine.janssen@waterstofnet.eu directly.