Save the date! Power-to-Gas Conference, May 7th 2018, Horta Antwerp
2 March 2018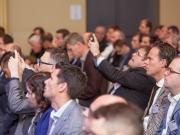 On Monday the 7th of May the Power-to-Gas Industry Cluster Flanders organises an international Power-to-Gas conference to be held in Horta Antwerp. During the conference the latest technology and international experiences with regard to power-to-gas will be presented, focussing on different aspects such as hydrogen production, storage, transport, legislation and the role in the future energy system.
We are pleased to announce the following confirmed speakers: Siemens, Hydrogenics, FCH-JU, TU Delft (Ad Van Wijk), Hydrogenious, EASE, Terranova Solar, Total and Hydrogen Europe.
Also the Flemish minister for Work, Economy, Innovation and Sport, Philippe Muyters, confirmed his presence.
The program will be announced as soon as possible.
About the Cluster:
About 30 companies have gathered in the cluster and have been selected for financial support in the framework of the 'IBN' (Innovatieve Bedrijfsnetwerken) of the Flemish Government ('Agentschap Innoveren en Ondernemen'). The partnership is coordinated by WaterstofNet. Members are active in renewable energy, hydrogen or gas technology, hydrogen mobility (fuel cell applications) or network operations (gas and electricity network).
Power-to-Gas Conference
Date: May 7th 2018
Location: Horta Antwerp, Belgium
Pin down the date!
Back