H2-Share's first hydrogen-powered rigid truck hits the road in the Netherlands
9 April 2020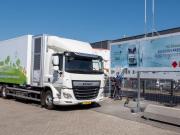 On Wednesday, 1 April, a 27-tonne hydrogen fuel cell rigid truck built by VDL started its first demonstration with BREYTNER as part of the EU-funded H2-Share project in Schelluinen, the Netherlands. Wystrach GmbH built a low-energy mobile hydrogen refueller to accompany the truck on its demonstration sites.
This hydrogen truck is unique in the Benelux. It is the first time that a truck will be demonstrated in a setting like this, certainly in combination with a mobile refuelling station. The launch of this demonstration is a giant leap forward in the development of the zero-emission heavy-duty vehicle industry in Northwest Europe and to gain practical experience with fuel cell trucks.
BREYTNER, a zero-emission transport provider, will operate the truck for three months in retail logistics, such as replenishing stores and feeder lines for zero-emission last-mile solutions. By testing the truck in different types of logistical processes, BREYTNER hopes to contribute to the question of where a hydrogen truck is best deployed. After the demonstration at BREYTNER, the truck will go to one of the other project partners for its next demonstration.
The aim is to demonstrate the truck and the mobile refuelling station at 6 locations in Germany, the Netherlands, Belgium and France. To demonstrate the truck on all 6 locations, regardless of the availability of hydrogen refuelling stations, Wystrach is presenting a mobile refuelling station with ample storage capacity, that allows flexible application possibilities.
At WaterstofNet, we foresee a major role for hydrogen in heavy-duty applications. After successful demonstrations with hydrogen refuse trucks in other projects, we are very proud to be involved in the first demonstration of this rigid-truck in our region within the H2-Share project. We believe it is clear that this technology has strong prospects for the North-West-Europe region, and we are looking forward to taking the next steps.
Download the press release here (ENG)
Download het persbericht hier (NL)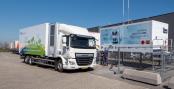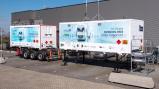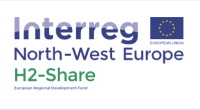 Partners
The H2 Share partners and associated partners are VDL, Wystrach GmbH, Rai Automotive NL, BREYTNER, Colruyt Group, Cure, DHL, e-mobil BW, Hydrogen Europe, Dutch Ministry of Infrastructure and Water Management, TNO, WaterstofNet. The city of Helmond and VIL are sub-partners in the project.
Back